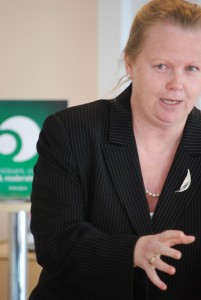 "Malin has a fantastic life experience when it comes to succeeding in international sales. With her warm humor and lots of concrete advice, she arouses an interest in everyone who listens to her, regardless of position in the organization. Malin's life destiny is both inspiring and moving to take part of and there is much to reflect on for anyone who wants to succeed in sales and their career"
– Lasse Gustavson, Lecturer and Lifecoach
"Malin is committed, energetic and passionate about her mission, to spread energy and knowledge. Her long and solid experiences, together with a fantastic sense of humour, add spice and warmth to her stories and what she wishes to convey. I am fascinated by Malin's journey, her courage, crazy antics and above all, of her will to live and give vitality to others. She has my biggest and warmest recommendation, both as a lecturer and a person. Now that Malin is stepping out into the world of lecturers, I stand behind her and cheer and support 100%"
– Zarah Öberg, Lecturer, Coach, NLP Trainer and journalist
"Malin's lecture was great. Good story, clear and straightforward with self-distance. She has a twinkle in her eye and is charismatic on stage."
– Karin Palmqvist, PriceWaterhouseCoopers
"Around the World in 60 Minutes"

Together with Malin, you are invited to a fantastic and gigantic journey, around all corners of the world. Malin shares the story of her life, about the many contacts she has made, her invaluable perspective on life, what has influenced her journey and all the factors that make her the person she is today. Malin is passionate about motivating everyone, both young and old, and as always, with a large dose of humor. She has experienced many rewarding lessons during the journey, which you can take part in, learn from and be inspired from the outside. Regardless of the audience, Malin's stories are alive and appeal to most people, everything from you who are a young and green student or an experienced manager of a company board. You are inspired to dare to take the full step to follow your dream, based on the conditions, experiences and dreams that exist in your particular life. A lecture with Malin can be your decisive step in creating the courage and strength to move forward with your ideas, thoughts and visions. You change around Malin and her thoughts stay with you for a long time after the lecture ends.
"World-class sales and service"
Malin has worked as a sales and marketing manager throughout her career, mainly in the five-star hotel industry, with a high pace and great responsibility. Among other things, she has worked at The Plaza Hotel in New York. Malin shares the experiences and knowledge she has gained during all her years abroad. About her experiences as a sales manager for professional sellers, about meeting people, through personal or telephone-based contact and many and long relationships with customers all over the world. Malin gives you an innovative opportunity to think outside the "box", learn to present yourself in a balance between humor, warmth and professionalism. This lecture is suitable for those who want to learn a little extra about selling yourself and your product, as well as to create extra power and "edge" in your sales technique.
"When you are on your deathbed, you do NOT wish you had worked more"
This lecture is a real awakening for everyone. Malin tells how she worked all these years in the hotel industry. She always tried to have the highest sales figures, to never disappoint her boss and to always be available to all her customers from all over the world. It was normal for Malin to have 8 meetings a day followed by dinner with important clients during her sales trips. These trips always lasted a month, as it was more cost-effective to graze all the countries of a continent at once. In the long run, this did not hold, and Malin suffered three heart attacks at the age of 49 and almost lost her life. Malin makes you think about what is important in your life, so you don't make the same mistakes. A real wake-up call for anyone who works too much.
"Young people, dare to study abroad"
Over the course of her life and her career, Malin has helped and encouraged many young people, both before their career choices and towards courage and progress in the hotel industry. Malin is passionate about seeing "a diamond in the rough, shining brightly in the sky" and often acts as a mentor for those new to her profession. – "Nothing gives more satisfaction than seeing a dynamic young person grow into their role, take the plunge and take on the different experiences of the world," says Malin. Because of that, she sees it as a big and important job to visit schools, to meet and inspire young people who want to dare and get involved. This lecture is aimed at those who are at the beginning of a career, want innovative ideas, for those who want to be motivated and inspired. Malin talks about her own career journey, which began at the age of 17, in a completely foreign country. The lecture inspires and shows that there are no limits to what you can achieve, as long as you want to. After the lecture, Malin is happy to help with advice on how to study abroad.
"Living with the Law of Attraction"
When Malin lived and worked in India, she met a wise man, a guru. He taught her that the most important thing a person has access to is how she/he thinks. He described the "law of attraction", a several-thousand-year-old way of "visualizing" what one needs and desires. The law of attraction has now been part of Malin's life for more than 33 years. During this lecture, Malin shares all the incredible events that have happened in her life thanks to the law of attraction. Malin herself says that everything is possible as long as you see it in front of you, even miracles. A different and eye-opening lecture.
Lectures can be held in Swedish, English, French, Italian and Spanish